Personal Websites and blogs are used for getting an online presence. People use personal websites for lots of reasons, we have listed out some of them below:
Portfolio websites for professionals
Gallery websites for photographers
Professional resume websites
Hobby Blogs and Websites
Autobiography or online journal
Expressing views on various subjects
An Individual shall use either WordPress or similar content management system that is easy to use for personal blog and website.
For the content management system to work efficiently and easy to use and maintain. CPanel based web hosting is the most preferred option. Popular content management systems and websites frameworks like HTML, CSS, JS. Run perfectly on shared web hosting plans.
If you are looking for shared web hosting plans in India or US. You will come across lots of providers and companies. Not all hosting companies are built same, each provider offers different plans, resources, and level of support. The most important aspect you need to consider is not to buy hosting from EIG companies.
EIG – Endurance International Group, is a company that owns more than 200 brands, you will see on Google. The issue arises due to poor customer support, uptime, technical features and software provided.
We offer the best web hosting for personal website hosting. Whether you are from India are from any part of the world.Our personal website hosting plans are most secure, simple, affordable and easy to work with.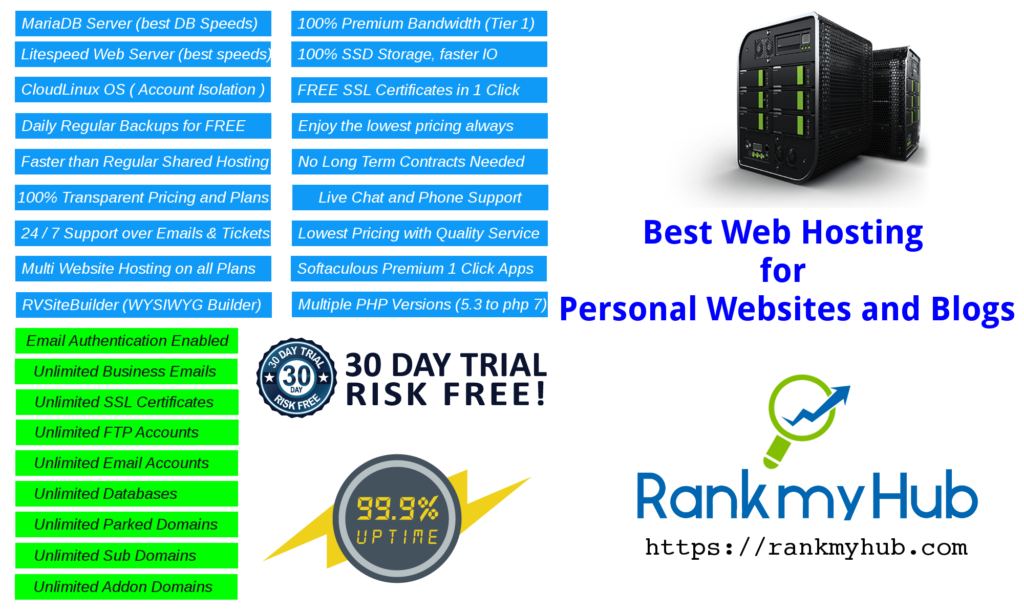 We have more than 99.9% uptime, with best customer support, pricing and servers. Making us the right choice for hosting your dream portfolio website.
Some of the features we offer that no one else offers for the pricing:
Starting plan price: Rs 171.00 or $2.63 per month.
No long term commitment needed:
Pay month to month or yearly, your choice.
FREE daily backups, no extra charges
FREE SSL certificates, no extra charges
Host multiple websites even on the starting plan
SSD storage and premium tier1 bandwidth
Fast servers that come with best security and features
Need some consultation or If you have any questions about personal web hosting. Comment below, we will answer and clarify every query. Thank you very much for reading, we hope this will help people looking for web server for hosting their website.