Rank My Hub offers the best web hosting services in Hyderabad. We have considerable expertise, quality servers and software engineers to handle all kinds of web servers for your needs.
Hyderabad is an important city in the state of Telangana and Andhra Pradesh as join capital city. This metropolitan is a landmark for software hub, and too many multinational companies, startups, and technology enterprises are located here.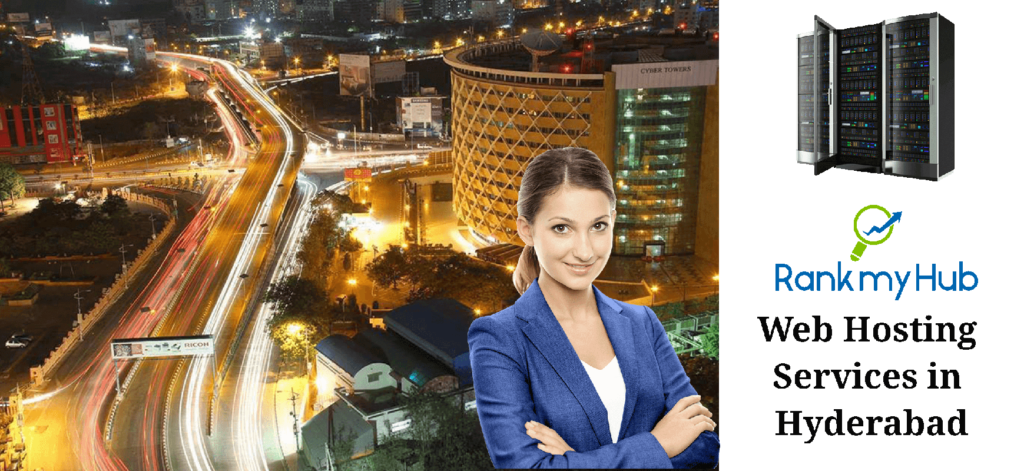 When it comes to web hosting services or web services, not every service or service provider can fulfill everyone's needs. Each business, company or enterprise have different requirements, budget, management needs and growth.
At Rank My Hub, we offer bespoke web hosting solutions in a holistic way. Our aim is to serve customers with excellent services, care, and support to help them aid in the internet presence development and keeping it up.
In this cyber city, most businesses are looking to get online for the first time. Small and medium enterprises, schools, institutions, merchants business owners, professional service providers like doctors, engineers, accountants, legal advisers, filmmakers, actors, artists, etc.. Each one of them needs unique web hosting services tailor made for their day to day needs.
Rank My Hub offers most affordable, and high quality shared web hosting plans in Hyderabad.
Shared web hosting plans are most suited for over 75% of users. Our Linux web hosting plans include best features:
1. SSD Storage ( makes your website faster than traditional HDDs storage )
2. Raid 10 ( makes sure that server is available even when the primary drive is affected or hardware fails )
3. Daily Backups. We have automated daily backups, and we retain 30 days backups at any point in time.
4. Litespeed web server is installed on our hosting servers. It is faster than Apache web server and offers Nginx like speeds while still adding compatibility to work using CPanel.
5. MariaDB database server is implemented for high-performance databases.
6. CloudLinux OS provides account isolation and improves stability, reliability, and uptime.
7. We have monthly billing plans and yearly billing schemes. Monthly plans come with no commitment. While our competitors ask you to get minimum contract period of 1 year, 2 year or 3 years. We do not lock you into such contracts.
8. Pay monthly and cancel anytime, if you do not need the server anymore. It makes sure that you always pay for using the server.
9. Local time support, we understand Telugu, and we are probably only web hosting company in AP, Telangana to offer support in Telugu.
10. Local support by local people to make sure that you enjoy best of the both worlds.
Whether you are a small business owner, merchant, doctor or individual our personal web hosting plans are the cheapest and adds the best value for you.
We are one of the best web hosting company in AP and Telangana. We can offer virtual private servers, dedicated servers, cloud servers. Server management services and end to end managed website services.
We have been in the business since 2013, and we have expertise in web design, web development, digital marketing and web hosting services. We are offering one-stop shop services for local as well as global clientele. Get in touch with us today and let us discuss your business needs.
If you are looking for reasonable or inexpensive Linux shared web hosting plans in Hyderabad, please check our web hosting plans.
We have unique and easy to use features like
Latest and up to date CPanel software
1 click free SSL Installation
One-click script or application installer which helps you create WordPress, Joomla, Drupal, Magento and other 200 plus open source installations easy
Pay in rupees, online bill payment which accepts net banking, credit cards, debit cards, UPI, and wallets.
100% FREE Trial for 30 days on any plan. You just need to purchase a domain or if you have a domain name purchased and ready to use, just put it in the order form and start your trial plan.
We are the only web hosting company in AP and Telangana to offer a trial period for free. You can try us for 30 days and decide to use the hosting for the upcoming period.
24/7 email support and live chat support is available during business hours ( India time )
99.9% uptime guaranteed. You can check our server uptime at any time.
We are honest, straightforward and transparent web hosting service providers. No hidden fees or charges. Just pay for your plan and enjoy the best services.
Our plans start from Rs 171.00 per month, and the highest plan is at Rs 650.00 per month.
We offer custom web hosting services like VPS, Dedicated or Cloud servers as per your requirements. Please contact us for custom web hosting plans request.